XK8 Belt Tensioner
I began hearing a chattering noise from what appeared to be a relay on the firewall. I was chasing the noise when I found that the drive belt was trying to jump off the alternator and the tensioner was trying to pull it back in line causing the noise at the tensioner. Just prior to this I had the drive belt, tensioner and idler replaced and not at the same time. The reason for the replacement was that I was getting a bearing squealing noise and it ended up being the bearing on the idler, the last item that was replaced. After the replacement I began getting the chattering noise.
After identifying the problem I replaced the belt to see if the existing belt that was replaced first was the cause. I felt that the belt could have developed a shape/memory that changed after the tensioner and idler were replaced. This was not the case. I then elected to change all three items and see if the problem reoccurred and it has not to date.
FYI: The new Tensioner or the Idler do not have a lip/shoulder like the old ones.
I have 2 videos of the noise it was making. Video 1 Video 2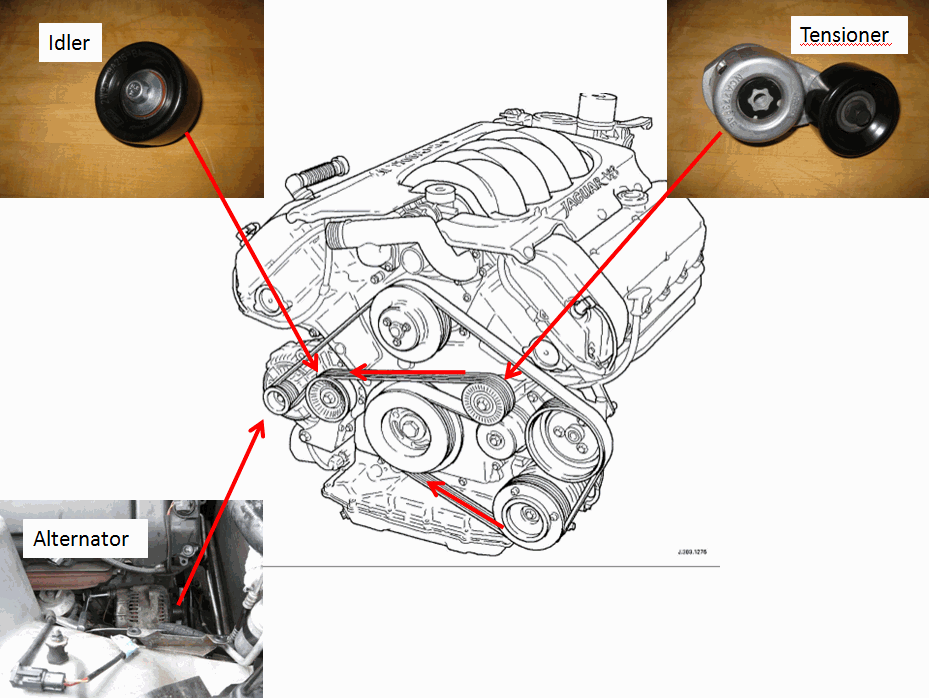 I can only tell you that when I changed all three parts, the belt, idler and tensioner at the same time the problem went away. My best guess is that the tensioner or idler (the old new ones) were not aligned properly. According to the Gates Information www.gates.com/brochure.cfm?br...ocation_id=544 I feel I was correct and replaced it. My old tensioner had residue of the belt that leads me to believe that alignment or tracking was not correct. I changed the belt because of the residue and the concern of wear and the idler because it was easy to get to and why not. I did not want to deal with this again.
When I went into this project I checked all the pulleys and found them to be sound and working properly and freely. With the direction of the belt and the jumping problem being on the alternator pulley and the tensioner jumping I felt that the tensioner or idler were the problem. I have the old parts and I have a few other checks to make. I have a hunch that the tensioner wheel is miss aligned.